Floor Blimey! help you give your customers and staff the right first impression
In commercial premises it is essential that the furniture in areas visited by your customers is clean and presentable. A dirty or stained sofa in a reception area does not give the right first impression. The same can be said for areas where your staff work, having clean upholstered office furniture, such as office chairs and fabric partitions, will not only boost morale but it also makes for a healthier environment in which to work.
Minimal disruption – maximum results
Floor Blimey! are experts in the cleaning of commercial upholstered furniture. With our flexible approach we ensure your company is subject to minimal distruption by working at a time that suits you. The Floor Blimey! commercial upholstery cleaning process will leave your furniture looking fresh & stain-free. Having clean furniture will make your visitors, customers and staff feel valued and welcome.
Extending the life of your furniture
The upholstered furniture in offices, hotels, schools, cinemas, care homes, and doctors surgeries get almost constant use. They pick up alot of dust and dirt from clothes and are also subject to spillages of both food and drink. By having your furniture regularly, professionally cleaned not only makes it look and smell nice but will extend the life of the fabrics.
Hover over the image to see the difference…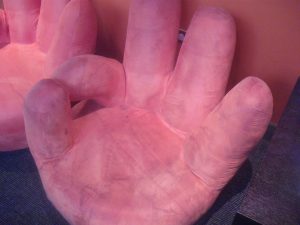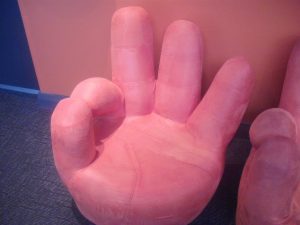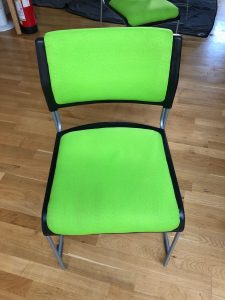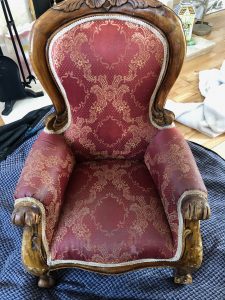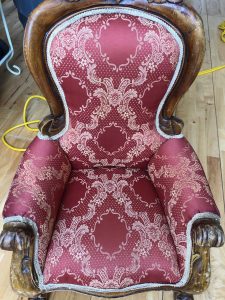 The Floor Blimey! upholstery cleaning process
To make sure your upholstered furniture is cleaned to the highest standard we use the Floor Blimey! 6 point cleaning programme:
1. Pre-inspection & indentification
A full and extensive before-clean inspection and fabrics used on your upholstered furniture are indentified.
2. Review and action
The condition of upholstered items are reviewed and the best course of action and cleaning process is decided.
3. Pre-vacumm
We use a commercial grade vacuum cleaner to deep clean and remove any loose soil or grit.
4. Fabric test & pre-treatment
A colour test is performed on a small hidden area of fabric, spots and stains are identified and pre-treated.
5. Upholstery cleaning
Your upholstered furniture is cleaned using the chosen cleaning process.
6. Post-inspection
We inspect the upholstery thoroughly with the customer ensuring they are completly happy with the results.
We clean all types on commercial upholstered furniture…
Sofas
Couches
Reception area furniture
Bedroom suites
Armchairs
Dining chairs
Headboards
Mattresses
Fabric partitions
Office chairs
Why have workplace and commercial upholstery professionaly cleaned?
Furniture is hygienically clean and bacteria buildup is prevented
Colours are restored
The risk of allergies among staff is reduced
Unsightly stains and spots are removed
The life-span of your furniture is extended saving you money on replacement units
Why use Floor Blimey! for your commercial upholstery cleaning?
Highly experienced – Using our wealth of knowledge we can identify the fabric and cleaning process required.
State of the art equipment – We have only invested in the latest and most up-to-date machinery
Effective Stain Removal – We identify the type of stain and know the best way to treat it.
Environmentally responsible – We only use approved, safe chemicals to ensure there is no damage to either the environment or your upholstery.
Fully insured – We are fully insured with Public Indemnity and Public Liability insurance up to £5 million
Flexible approach – We work around your opening or office hours to ensure minimum down-time
For a FREE quote or to arrange an onsite visit please call us on 01934 611442