Domestic Carpet Cleaning Services
Is your carpet as clean as you think?
When you notice that your carpet is looking a bit grubby, what you are actually seeing is only the dirt at the surface. Up to 85% of the soil particles your carpet holds are trapped deep within the pile. Not only can this trapped dirt and grit shorten the life span of your carpet, it could also harbour harmful bacteria and mites.
At Floor Blimey! we specialise in professionally cleaning all types of domestic carpets, eliminating stains and helping to create a more hygienic environment for you and your family. We are highly experienced and only use the most up-to-date cleaning techniques and equipment.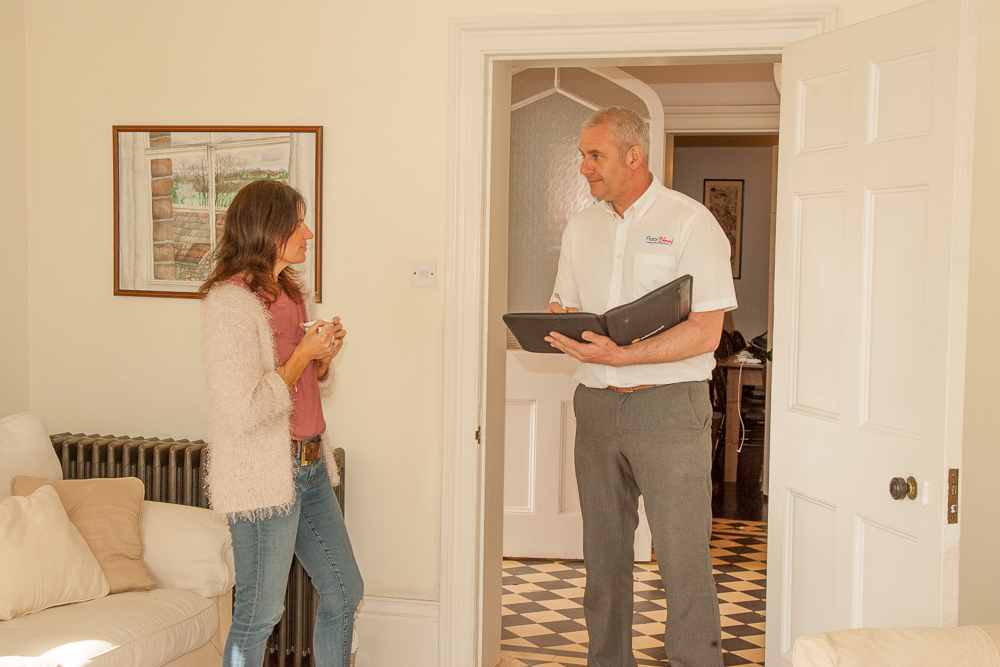 A full survey
A thourough inspection helps us to safely clean your carpet. We will determine the fabric type, condition, and colour. We will perform a quick test to determine if the carpet is suitable for cleaning as well as a dye bleed test should your carpet be coloured.
Following your pre-cleaning inspection you will be advised about how we will clean your carpet and if we have encountered any potential issues. All of this will be discussed with you before we clean any item.
If we come across anything you should know during the cleaning we will tell you.
We like to keep you informed!
Every clean starts with vacuuming
Every carpet clean must start with a vacuum cleaner. This is one of most important steps in the cleaning process we use.
Fact!
Up to eighty five percent of dirt in a carpet is dry dirt and can be removed with a good vacuum cleaner. Vacuuming should be performed once a week for every person and pet in your household!
The next step is to clean the carpet using our unique low moisture system..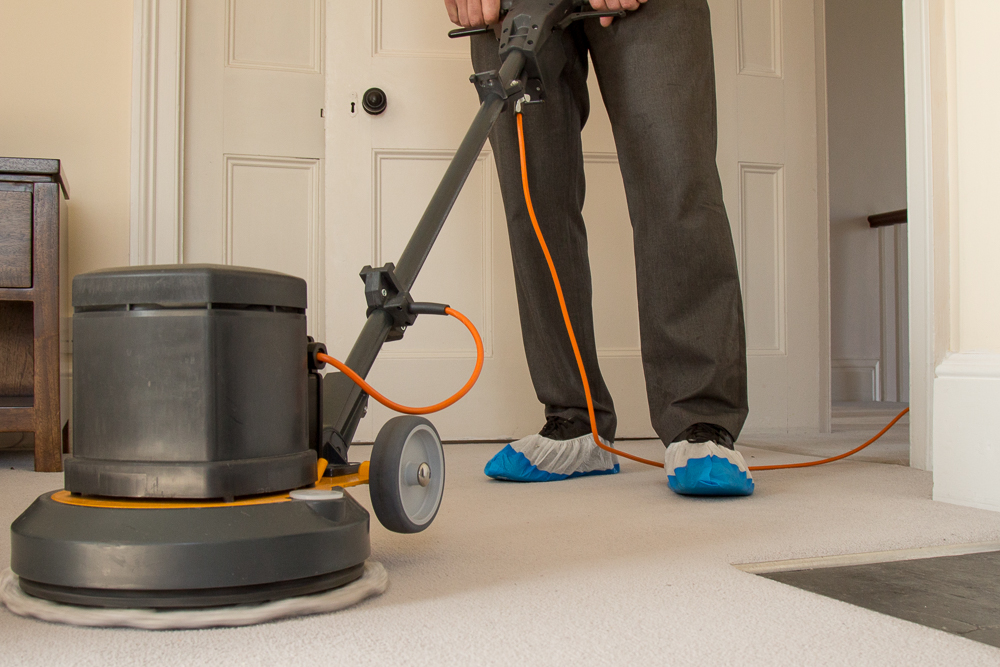 The cleaning stage
After spraying the carpet with a suitable cleaning solution we use a machine to agitate the solution, this makes sure every individual strand of fabric is covered. Think of it like rubbing shampoo in to your hair.
This is the actual cleaning process and when you will see the biggest difference in the appearance of your carpet.
Once we have covered the whole area and into the corners will leave it a few minutes to let the cleaning solution work its magic!
Next is the rinsing stage..
Powerful rinsing
Using a very powerful machine, we spray a neutralising solution into the carpet which is then immediately extracted back into the machine along with the suspended dirt, leaving the carpet clean, almost dry and Ph Neutral which is very important. Again this part is like rinsing your hair after you have cleaned it!
Household carpet cleaning machines are not powerful enough to properly rinse a carpet. This leaves soap residue behind which dries and becomes sticky and so attracts dirt, making the carpet dirty again very quickly. If you use a household machine to clean your carpet have you noticed you have to clean them a lot?
Following a post inspection, your carpet should be almost ready to use!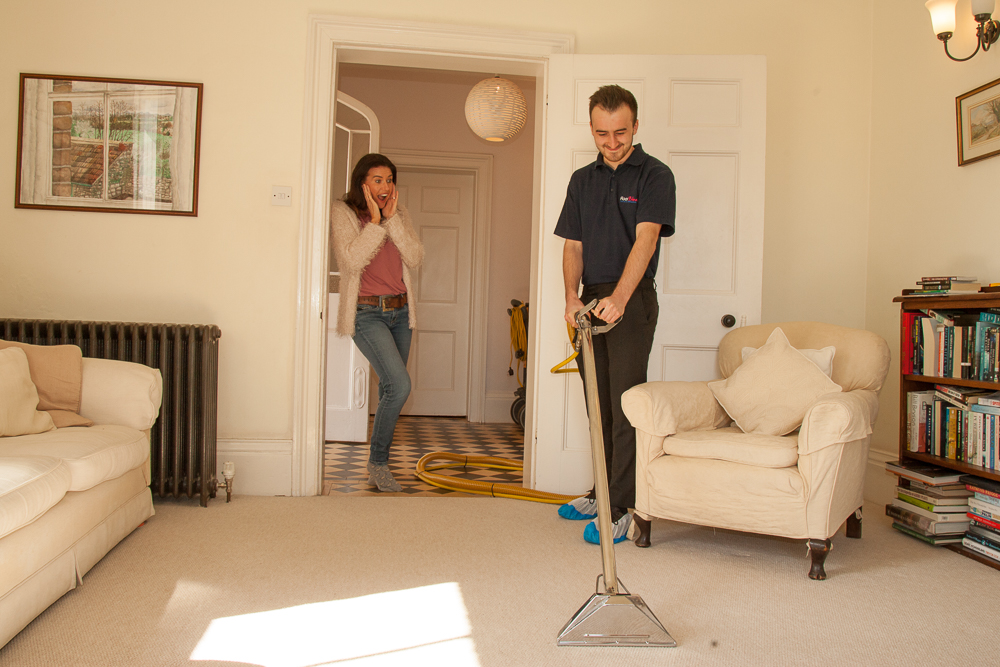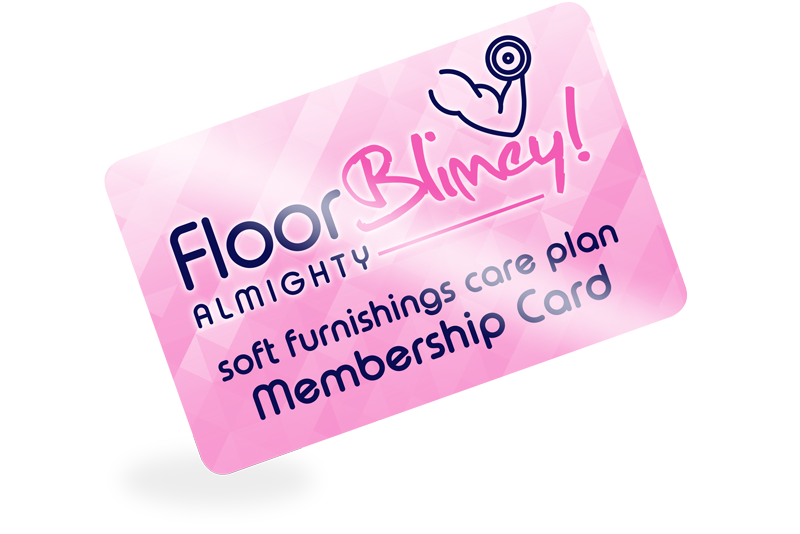 A great way to save
You will save on your first carpet clean today by joining our exclusive club! Click the button below to read how it works and to see an example of how you can save on your carpet cleaning AND get other great benefits!
Your carpets will be dry in 30 minutes
We use the Texatherm Cleaning Process which is regarded as the market leader in carpet cleaning systems. This unique low moisture process combines chemical reaction with a heated pad creating a capillary action that draws the dirt up and out the carpet fibres. The result is an extremely clean carpet that can be dry and ready to use within 30 minutes.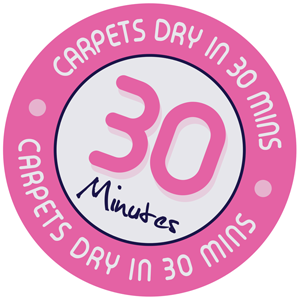 "Our carpet had been neglected for far too long, we didn't think they would look half as good as they did after Floor Blimey had visited us. I recommend to anybody who needs their carpets cleaned."
"Great job done for a fair price. They where punctual, worked hard and efficiently. I was very surprised the carpet was almost dry when they left!

I highly recommend to all"
"I love the team at Floor Blimey and I would highly recommend them to my friends and family.

They do a smashing job and are always professional at what they do."
How often should you have your carpets professionally cleaned?
To keep the carpets in your home hygienic and fresh they need to be professionally cleaned on a regular basis. You may well vacuum your carpet once or even twice a week, however most domestic vacuum cleaners don't have what it takes to remove that deep-down grime. Floor Blimey's professional level domestic carpet cleaning will thoroughly clean your carpet, keeping it safe and hygienic for your and your family.
Call us today on 0333 202 7733 or click the button below to contact us
The Floor Blimey Domestic Carpet Cleaning Process
To ensure all carpets are cleaned to the highest standard we use the Floor Blimey! 6 point cleaning programme:
1. Pre-inspection and report
We carefully check your carpet type, the level of soiling and advise you on any permanent staining that can't be removed.
2. Pre-vacuum
We use a high suction commercial grade vacuum cleaner to remove any loose soil or grit from the carpet.
3. Pre-treatment
Particular spots and stains are identified and treated. The whole carpet is sprayed with a chemical agent to break down and loosen soil deposits.
4. Agitation
The carpet area is agitated either by a hand carpet groomer or by an electric rotary cleaner (depending on the extent of soiling).
5. Carpet cleaning
Your carpet is cleaned using an appropriate deep cleaning system
6. Post-inspection
We inspect the carpet thoroughly with our customer making sure they are completely happy with the results.
Why have your carpets regularly professionally cleaned?
Removes deep down dirt that domestic vacuums simply can't reach
Eliminates odours and helps your rooms smell clean and fresh again
Prevents bacteria and allergen buildup making your carpet hygienically clean and safe for your family
Prolong the life of your carpet as trapped soil and grit increases carpet wear and tear
Removes unsightly stains and spots
Improves indoor air quality – airbourne pollutants get trapped in the carpet and then released by foot traffic
Emergency stain removal
We all have accidents, whether it's knocking a glass of wine over, spilling food or a pet that isn't quite house trained. Fear not the Floor Blimey! team are at hand, with our years of experience, knowledge and state of the art cleaning equipment we are able to treat and remove most stains.
For a FREE quote or to arrange a home visit please call us on 01934 611442