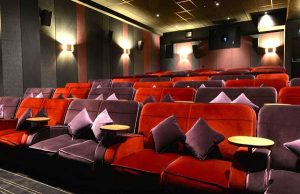 Adrian and I had the very rare treat of a night out this month. Having been lucky enough to have met Darren and the team from Everyman Cinema in Whiteladies road Bristol, they very kindly invited us to a private members screening of The Shining to celebrate their first birthday!
Dedication- even down to the (very clean) carpets.
Now here at Blimey! towers this film has always been one of our favourites. From Jack Nicholson's amazingly chilling performance as the hotel caretaker Jack Torrence, to the fantastic art deco design of the Overlook hotel where the film is set, we love it all and have watched it more times than I am willing to tell you here. So you can imagine how excited we were to arrive at the Everyman and find that they have dedicated a whole screen room to the Shining theme.  Oh yes, you really have to see this room to believe it. They actually have a replica of the patterned (clean) carpet from the overlook hotel along the corridor leading up to the screen doors, and there are pictures of cast and crew along the walls. From the infamous "here's Johnny!!!" scene where Jack Nicholson's character hacks the bathroom door down to get to his terrified wife, to the famous picture in the film's final shot of the Overlook hotel's historic guests in the ballroom with Jack (Jack Nicholson) standing proudly in the middle. There are even still's from the recording of the film featuring Stanley Kubrick directing Danny Lloyd (Danny) to ride his trike on said infamous (also clean) carpet.
Beautiful Velvet Sofas.
Once we got through the doors to the screen room the Everyman experience got even better. Now in most cinema's you are offered a cosy seat right? In some perhaps for a premium you get to sit on a leather one. Everyman go one better than that, they give you a very swish velvet sofa for two – perfect for snuggling up on under the cosy blanket's provided after a hard week's carpet cleaning. Hell, as it was their birthday they even brought us cupcake's and prossecco! Now I don't  know about you but I don't even put on this much fuss for a date night at home….
As you can imagine it really was a very special night and the film was absolutely superb on the big screen, so I'd like to give a huge thank you to all at Everyman for making us feel so welcome and special. I have to say though, I realised halfway through the film how utterly obsessed with carpet cleaning I am when I leant across to Adrian and whispered- "they are never going to clean all that blood out of that carpet". Oh dear…..