Clean carpets create a healthier environment for both your staff and visitors.
Carpets in commercial areas such as offices, shops, call centres, cinemas, bars and resturants have a pretty rough time. Because they are subject to a continious flow of foot traffic they not only pick up an enormous amount of dirt from shoes, but are also subject to spillages and stains from drinks, food and office equipment.
Making for a healthier environment
Dirty carpets in commercial areas don't make for a good first impression! Not only that they can quickly become home to all sorts of bacteria and parasites, including skin mites, fleas and lice.
A clean carpet not only looks nice but will help remove odours and creates a healthier environment for both staff and visitors.
Clean carpets at a time that suits you!
Floor Blimey! specialise in the professional cleaning of carpets and carpet tiles within the commercal sector. Working around your company's office hours or opening times we ensure minimal disruption to both your staff and customers. Our commercial deep-clean service can bring even the most tired of carpets back to looking like new.
Minimal disruption in your workplace.
Floor Blimey! use a low moisure cleaning process. Developed by Texatherm it is regarded as the market leader in carpet cleaning systems. The unique low moisture process combines chemical reaction with a heated pad creating a capillary action which draws the dirt up and out the carpet fibres. The process is not only extremely effective safe and quite but drastically reduces drying time, causing minimal disruption in your workplace.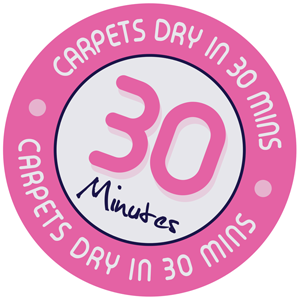 Our carpet cleaning process for commercial carpets
All carpets are cleaned to the highest standard using the Floor Blimey 6 point cleaning programme:
1. Pre-inspection and site survey
We carefully check the carpet type, any hazards and the level of soiling.
2. Pre-vacuum
We use a high suction commercial grade vacuum cleaner to remove any loose soil or grit from the carpet.
3. Pre-treatment
Particular spots and stains are identified and treated. The carpet area is sprayed with a chemical agent to break down and loosen soil deposits.
4. Aggitation
The carpet area is aggitated either by a hand carpet groomer or by an electric rotary cleaner (depending on the extent of soiling).
5. Carpet cleaning
Your carpet is cleaned using our low moisture, deep clean system
6. Post-inspection
We inspect the carpet thoroughly with our customer making sure they are completly happy with the results.
Why have workplace and commercial carpets professionaly cleaned?
Reduces the risk of allergies among employees
Eliminates odours and helps your workplace smell clean and fresh again
Prevents bacteria buildup making your carpet hygienically clean
Prolong the life of your carpet as trapped soil and grit increases carpet wear and tear
Removes unsightly stains and spots
Safe and effective low moisture carpet cleaning
When cleaning carpets within a commercial environment it is vital that the correct carpet cleaning system is used. Electronic devices, IT equipment and computers form a large part of most offices and industrial spaces.
The excessive use of a 'Hot water extraction' cleaning system could be extremely harmful and in some cases dangerous. Excess water residue, floor standing computer towers and sunken electric sockets simply don't mix!
Why use Floor Blimey! for your commercial carpet cleaning?
Fast Drying Times – Carpets can be dry and ready to walk on again in 30 minutes, causing minimal disruption
Workplace friendly process – Our low moisture carpet cleaning process is safe to use around computer and electronic equipment
Effective Stain Removal – We identify the type of stain and know the best way to treat it.
Environmentally responsible – We only use approved, safe chemicals to ensure there is no damage to either the environment or your carpet.
Fully insured – We are fully insured with Public Indemnity and Public Liability insurance up to £5 million
Flexible approach – We work around your opening or office hours to ensure minimum down-time
For a FREE quote or to arrange an on-site visit please call us on 01934 611442